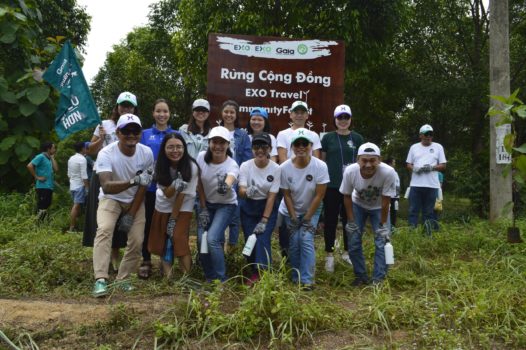 Gaia Nature Conservation is a not-for-profit organization of Vietnam. Gaia empowers people and takes advanced initiatives on nature conservation and environment protection, in order to create a future where human lives in harmony with mother Earth.
What do they do?
In many provinces of Vietnam, the area of natural forest is steadily reduced, existing ones are poor, with a limited number of plants and animal species and thus a limited quality of ecological services. Moreover, there are less than 50 individuals of Asian Elephants in Vietnam of which 11-14 individuals are in Dong Nai World Biosphere Reserve.
After the death of seven elephants in 2010, one electric fence was constructed in order to keep the elephants inside the forest. However, the long-term solution should be to create a suitable habitat for the elephants at Dong Nai World Biosphere Reserve. Forest plantation and rehabilitation program is one of the long-term solution that could be implemented.
Thus, Gaia has decided develop the following activities:
Forest plantation & rehabilitation
Experience the nature field trips for different stakeholders such as students, university students, companies and individuals,
Environmental education for different stakeholders,
Building capacity for national park and protected areas staff,
Recycle organic waste into compost.
EXO Foundation support
In July 2018, approximately 500 plants of five species, including timbers and fruit plants for wildlife were planted in the 10.000 m2 of poor forest at Dong Nai World Biosphere Reserve. The plantation activity has been undertaken in the gist of a fruitful partnership between EXO Foundation, EXO Travel Vietnam & Gaia. Over 130 staff and leaders of EXO Travel took part in planting and monitoring the forest, and thus contributing directly to the nature conservation of Vietnam.
It aimed to increase biodiversity of the forest and thus improved ecological services such as mitigating climate change, resisting soil erosion, and moderating climate,  and as well as created suitable habitats for wildlife. The forest will be taken care continuously in four years to ensure that it is well developed.
Highlight of this forest plantation program was that the participants also take part in surveys to learn about situation of the forest, at the time of plantation and in the four continuous years. The surveys will help the participants to see impacts on the environment and ecosystems of the new forest. The survey activities included: creating a list of plant and animal species, measuring tree height and foliage coverage, observing vegetation coverage, and taking photos to monitor changes.
The new enriched forest will provide food and shelters for countless number of wildlife species, including endangered one such as Asian Elephants, Gaur, Great Hornbill, and Black shanked Douc, and etc.
During the forest plantation day, the participants also learnt practical knowledge of forest and wildlife of Vietnam and Dong Nai World Biosphere Reserve. The team building session with the theme on forest plantation and environment protection was successfully organised in an exciting atmosphere.
Ms. Bui Thuc Tue Thanh – Human Resource Manager of EXO Travel expressed that: "The forest plantation and monitoring program is so meaningful and sustainable. Our staff were totally exciting with the forest plantation and survey activities, and also the team building session. We also look forward for the continuous years to learn how the forest would create impacts on the environment and the ecosystem. The program not only connect our staff to the nature and but also to each other".
According to Ms. Huyen Thi Thanh Do – The Founder & Executive Director of Gaia Nature Conservation, who has been working on conservation in Vietnam over 17 years, "The total area of forest in Vietnam is decreasing and quality of a large area of forest is poor. We, human beings are facing more and more serious natural calamities, climate change, and the wildlife extinction. The forest plantation and monitoring program were carefully designed so that the participants not only contribute directly to the nature through forest plantation activities, but also gain valuable and creative  experiences, in a professional, relax and inspiring atmosphere".