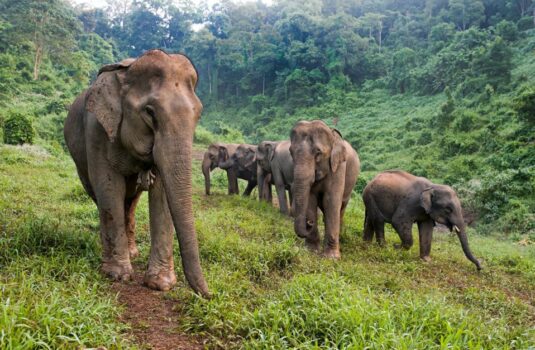 Established in 2010, The Elephant Conservation Center (ECC) is a Lao-French Joint Venture Company in Sayaboury Province, Lao PDR. It aims to protect elephants by providing vet care, welfare, and research.
What do they do?
The Elephant Conservation Center rescues elephants that are kept under sub-standard conditions and offers them a new life. Most elephants in Laos were employed in the logging industry until 2018. With a ban on illegal logging activities issued by the Lao government, many elephants became a liability for their owners.
Most of the funding comes from paid visits to the site and donations, which are mostly spent on elephant welfare and conservation actions. From 2020 onwards, most of ECC's institutional funding will be aimed at supporting the Nam Pouy National Protected Area conservation projects undertaken by ECC and the Sayaboury Province concerning wild elephant conservation and habitat protection.
The Center also provides welfare services and vet care to elephants with the first aid and the long-term care they need. For that, the ECC established the only Elephant Hospital of Laos which includes a state-of-the-art treatment facility, a lab, and a pharmacy.
Partnerships with international research institutes also helped to develop their methods and protocols to do research. The equipment and the training received by the staff also allow the monitoring of elephants on the site.