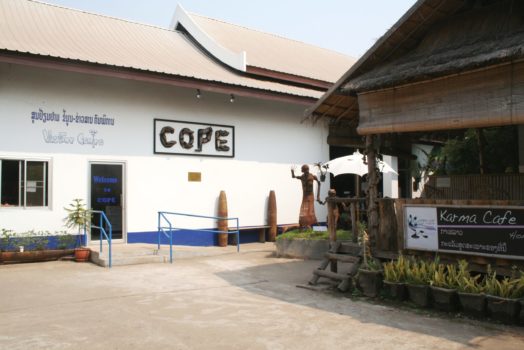 Standing for Cooperative Orthotic and Prosthetic Enterprise, COPE is a Lao, locally-run, non-profit organisation founded in 1997 to provide survivors of unexploded ordnance (UXO) with the specific care and support they require. Working in partnership with the Centre of Medical Rehabilitation and provincial rehabilitation centres, COPE facilitate access to orthotic and prosthetic devices, quality treatment and rehabilitation services for people with disabilities, hence improving their ability to participate in the communities and have a positive effect on their quality of life.
What do they do?
COPE's objectives are pursued through four main lines of action:
Supporting expenses of patients who are unable to pay for treatment and associated costs, as well as upgrading facilities at the five centres currently supported by COPE.
Promoting the development of a multidisciplinary rehabilitation program. COPE is a portal for skills development and training, upgrading clinical skills in physiotherapy, occupational therapy as well as prosthetics and orthotics within the government rehabilitation services.
Informing communities across Laos PDR about the types of services available. They also facilitate referral between the network of clinical services to provide comprehensive and accessible treatment to people living with mobility impairments.
Offering donors a recognised standard of auditing and financial accountability for proposals to be successfully accepted and managed. In such way, COPE work to ensure that services are sustainable for the long term and always available.
To raise public awareness about the project, educate on the recent history of Laos PDR, as well as a means to raise funds to support its activities, COPE created the Visitor Centre. Together with a gift shop and café, the visitor centre consists of a free permanent exhibition of video, photography and sculpture explaining the incidence and impact of cluster bombs and unexploded ordnances (UXO) in Laos PDR. Under a positive atmosphere it also provides visitors with a close approach to the challenges faced by disabled people through the narration of their personal experiences.
All profits from the gift shop and the Karma Cafe as well as donations collected at the Visitor Centre go to support the costs associated with patients treatment and rehabilitation; manufacturing prosthetic or orthopedic devices, transportation, accommodation and meals, etc.
What can you do to help?
Ask your travel agent or your guide to visit COPE Visitors Centre when you are in Vientiane.
You can also purchase special T-shirts, bags, mugs, books and handcrafts at the gift shop or enjoy custom made ice-creams, hot or cold drinks at COPE Visitors Centre's Karma Café.
US$ 10       buys a developmental toy for a child with disabilities.
US$ 15       food for a week for one person.
US$ 30       rehabilitation equipment.
US$ 40       special chair for a child with a disability.
US$ 75       buys 1 prosthetic leg.
US$ 150     buys 1 prosthetic arm.
US$ 200     complete treatment for 1 person.
US$ 250     club Foot treatment for 1 person.