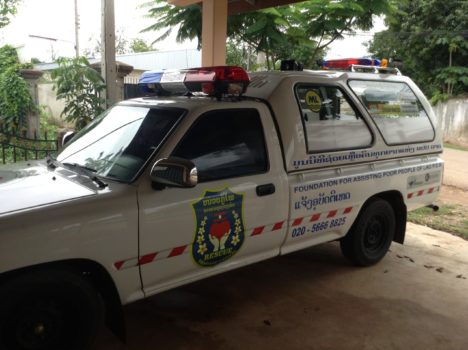 Vientiane Rescue is the first and only Rescue service of Vientiane

This organisation was set up in 2010 by a former fire-fighter and nurse who worked for the Red Cross on emergency assistance. He gathered around him a team of 34 dedicated people from Lao and trained them in first aid. It is registered under the Lao Foundation. After difficult beginnings with very little resources they now have 4 rescue stations and 5 specialised teams of dedicated volunteers and are able to reach any accident place within 3 to 7 minutes.
What do they do?
Alongside economic development, road traffic has significantly increased in recent years in Laos with and in particular the growth of motorcycles while education on basic road safety and driving rules are almost non-existent. As a result the number of road accidents in Laos is constantly growing – it is expected to increase by 144% from 2000 to 2020 and, if nothing is done, it will soon become the leading preventable cause of death in Southeast Asia. Apart from the Vientiane Rescue Team (VRT), no medical assistance is available now in Laos and police who are often the first to reach the accident scene are not trained in first aid. The emergency response is very poor, the Vientiane Rescue Project aims to bring assistance and provide a free and equitable emergency service to all accident victims in and around Vientiane.
They have 5 specialized teams:
A paramedic team made of First Responders and Emergency Medical Technicians, can stabilise the condition of road traffic accident victims.
A Hydraulic Rescue team to free victims from crushed cars.
An Excavation Rescue team can organise rescue operations in tricky environments
A Fire and Rescue team to fight fires and save victims trapped in buildings on fire.
A Diving Rescue team to recover bodies in the Mekong river.
A 24 hour hotline 1623 was set up to rescue victims of accidents and the team was trained in first aid assistance with the support of Udon Thani Hospital in Thailand, only 30km from Vientiane; they attend to patients at any time, carrying out first aid care and taking them to the nearest hospital whenever necessary.
How can you help?
This organisation needs great support as well you are guaranted that 100% of the money will be used solely to rescue people and nothing else; money is increasingly needed as road traffic, number of cars, and motorcycles is increasing together with number of accidents. Money will be used for purchasing:
medical equipment,
gasoline to run the ambulances
first aid materials
EXO Foundation support
EXO Foundation started to support this project since 2012, at that time the car previously used as an ambulance but shared with Lao Red Cross was taken back by the Red Cross to be used exclusively for special sport events and festivals. As a result the VRT could no longer operate.
EXO Foundation donated to purchase an old car that the Vientiane Rescue Team then customised into an emergency rescue vehicle, allowing them to resume their 24 hours rescue services and help victims of road accidents…  EXO Foundation litterally saved the project!