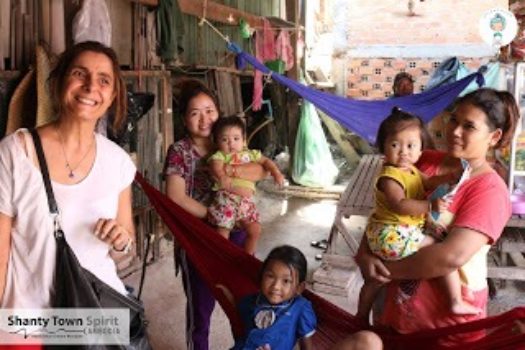 Shanty Town Spirit was created in 2012 when his founder discovered children living in the garbage-filled slum of Boeung Trabek were collecting rubbish instead of going to school. Since then the association aim is to provide to the impoverished children of the slum, and their families, the minimum required to have a decent quality of life in term of education, hygiene and healthcare.
What do they do?
The goal is to support the community members in becoming self sufficient and be able to support their own families. Their main focus is that every child in the community attends school.
They provide them with tuition, school supplies, uniforms, books, English lessons. We help children with their homework.
They elaborate a reward system where we offer to our top best students gifts such as bicycle, clothes, training shoes, books…
Young adults who couldn't get yet an education are encouraged and motivated to find an internship to learn new skills and obtain at the end of the internship a job.
They follow all medical issues and supply them for minor health issue. In case of sickness or surgery, we helped our members financially and psychologically. They provide also reading glasses and we send all children for dental checkup.
Necessary controls are supported : hygiene, pregnancies, birth control, sexual disease prevention.
They want to change the mindset of parent about their kids, by encouraging them to let their children go to school and understand that education is primordial.
They teach accountability and personal responsibility to achieve sustainability.
They organize a new way of life for them and give them the tools to improve their life and increase their quality of life. They advise them to budget and to manage their income.
Household Support Program
They evaluate their houses, their problems and find solutions to help them efficiently.
They help to fix houses and buy furniture and household equipment.
Nutrition is monitored and they donate rice, do groceries shopping for them and take care of their elderly community.
They take out children to park recreation, public parks, swimming pools, movie theater, restaurant.
How can you help?
US$ 5            Hygiene product or extra class for 1 subject at school or basic medicine for one family for one month
US$ 10         One school uniform
US$ 15         Blood, optometry test
US$ 20         Visit to a general practitioner
US$ 45         75 kg of rice to support a family of 4 for 1 month
US$ 100       Support 1 kid for 1 month for education, hygiene, health and entertainment activities
US$200        Furniture for a house in the slum
US$ 300      To set up an house in electrical standard (many houses catch fire in the slums)
US$ 960       Allowance for an elder for 1 year
EXO Foundation support
Since 2016, EXO Foundation donated to this organization which is now supporting a few families within this community living in the slum. Aside from its donation EXO Foundation gave 20 copies of our comic strip, Don't Waste your Waste – GB Version within the frame of a clean up program called CAKE Shanti.