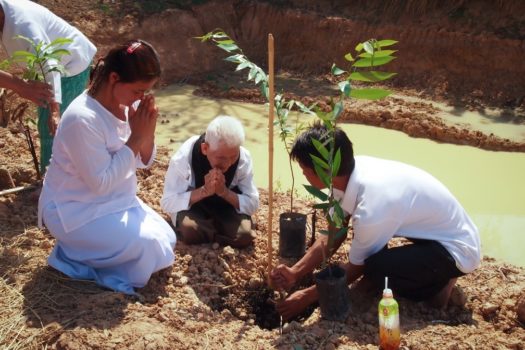 The Greener Tomorrow project is based at Asom Wiwek Buddhist Meditation Center, in Chaiyaphum, Thailand.  The project was established by Thai Buddhist Monks, community members and supporters from Thailand and overseas. The team is raising funds to buy disused farm land around the center. Trees are being planted to conserve and improve the environment and to create a peaceful space for meditation.
What do they do?
In Thailand, planting trees on sacred ground and performing Buddhist ordination ceremonies for trees and areas of forest are common cultural practices, and recognized as successful ways to protect Thai forests.
Asom Wiwek is a Thai Buddhist center, serving the local community of Nong Waeng, in Sab See Tong sub-district, Chaiyaphum province. Many laypeople from across Thailand also visit the temple on special occasions to make merit. Tree planting is one of many spiritual and community activities at the center.
The overall aim of the Greener Tomorrow project is to buy land and plant 84,000 trees in the area around the meditation center. From a Buddhist perspective, this is a concrete way to practice 'metta' or being compassionate to all living things. The new forest provides a home for animals, birds and plants.
Greener Tomorrow activities, such as planting, watering and fertilizing trees aim to protect and improve the environment, increase environmental awareness and foster a sense of community by encouraging people (especially families and youth) to contribute their time and energy doing worthwhile activities.
Activities usually take place at the same time as important Buddhist celebrations or Thai national events. Most contributions, including financial donations to the project, have been made by ordinary Thai Buddhists 'making merit'. However, the project warmly welcomes the participation and contributions of people of all faiths and nationalities, who share a common wish to help plant a greener tomorrow.
Main activities conducted during the project include:
Raising funds to buy land to plant trees.
Planting, watering and fertilizing trees.
Weeding planted areas to protect newly grown trees.
Environmental camps for local youth.
Raising funds to install solar-powered irrigation for the planted trees.
2009: donation of land to the new temple, including over 10 000 trees (existing forest).
The first tree plant was held on May 2010, planting over 2 000 trees, since 28 000 more trees were planted on specific days such as World Environment Day 2011 & 2012, Mother's Day 2011, 2013 & 2013 or Visakha Bucha Day, 2011.
An English and Environment camp was held by Prem International School (Chiang Mai); 200 bags of organic fertilizer were donated.
On Mother's Day, August 11th 2013, funds were raised to buy a solar powered water pump, to irrigate the trees.
How can you help?
When visiting Thailand, you can participate in tree planting activities, please contact us we'll put you in touch with the persons in charge.
Your donation directly benefits their needs:
US$ 4           Plant 1 tree
US$ 10         Buy 2 bags of fertilizer
US$ 1 000    Organise an English and Environment Camp for local youth
EXO foundation support
EXO Foundation donated to the Thai Mother's Day Big Tree Plant, held on 11 and 12th August 2013. The goal of funding a solar powered water pump and water tanks is to provide water for the trees, especially during the hot season. Twelve solar cells are now installed. A tap with hoses at the top of the hill where the trees are planted, and 4 large containers are in place to store water. This water can be used by the temple and community members as well, providing a green energy, self-sufficient water source.