How to help in an efficient manner without creating a dependency?
Whom we choose to help and how the money will be spent?
How do you respond to a child begging or selling various items?
Advising travelers to help resourcefully in the most efficient projects was at the origin of the creation of the EXO Foundation. We know by experience providing efficient aid is no easy task.
Most travelers coming to Asia are confronted with the harsh reality of extreme poverty which can be emotionally overwhelming but raise compassion and opportunities for change. The natural reaction is an urge to help and as most are here for a short time, the easiest option is often to give money. Money is indeed greatly needed by many, but generosity and spontaneity is not always helping in the best way and may just be a momentary relief for some or, even add to the problem.
A tourist's generosity may be exploited by some unscrupulous individuals, who appear friendly but take advantage of their compassion and willingness to help. All sorts of strategies and underhanded projects are presented to travelers with a preference for focusing on orphanages and schools. These can be guides, tuk tuk drivers, or sometimes even children themselves who offer to take you to a village where they need a well or to a school. They then tell of the desperate state so you will donate cash but may keep it for themselves or share it with other intermediates.
There is no way to ensure your donation was used to benefit the individuals you intended to donate to and, a visit to the site does not guarantee it either.
Note that travel guides employed by EXO Travel sign a code of conduct where they commit not to collect any money from you or lead you to any such projects which were not previously included in your tour. If you are worried this may have taken place then please do not hesitate to contact us.
EXO TRAVEL has banned any interaction with children under 12 years old since 2012 and has compiled in 2016 the EXO Child Safe Policy It gathers in one document the different ways we strive to protect children and spread information to all stakeholders so they as well take Children safety as a priority that cannot be compromised.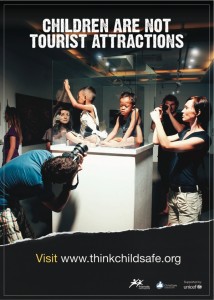 We hope this ChildSafe policy, which seems to be the first developed by a tour company in Asia, will serve as a model.
As a result of our strong and pro active commitment; EXO Travel is the first tour company being ChildSafe certified by Friends International a multi awarded social enterprises at the origin of the worldwide Childsafe movement and initiator of several programs supporting youth and their families.
 Giving money to or buying something from underage children is only encouraging them to stay on the streets and diverting them from going to school where they would have the chance to build a  positive future. Moreover, most street children are being exploited by local mafia and the more you give or buy from them, the more you encourage what is a form of child exploitation. If during your travel you find children in a risky situation or facing some type of accident, abuse, neglect and/or crime, please report immediately to the ChildSafe hotlines or the authorities in each country.
ChildSafe hotlines, national and international authorities here.
The EXO Foundation actively uphold the campaign 'Children are not tourist attractions', in which Save the Children, UNICEF and Friends International have highlighted the dramatic impacts of orphanages visits,  denouncing the detrimental effects such exposure has on children's dignity, pride, sound development and emotional balance. The EXO Foundation informed them of the similar growing trend towards school visits and it was decided to extend the campaign to this. EXO Travel decided to stop schools visits and inform clients this is not the right way to improve a child's education.
The EXO Foundation acts as an advisor helping EXO teams to elaborate ad hoc alternatives activities activities which are more respectful of a child's dignity and integrity, truly beneficial to local communities and meaningful experiences for travelers providing opportunities to help and gain a real insight into the society and development issues of a destination.
The same recommendations apply for the emerging demand to visit hospitals!
The best way to help children is by supporting for their family, through assisting organisations who are professionals in social development and providing them with new life chances, enabling them to earn a decent living and send their children to school. Many organisations support the education of orphans and vocational training.
There are many efficient ways to help children, their families and the most disadvantaged populations by supporting organisations dedicated to:
Education and vocational training to empower the most disadvantaged and provide them with better life chances while breaking the vicious cycle of poverty.
Fighting against human trafficking and child abuse.
Community development and improvement of livelihood activities such as agriculture or handicrafts.
Improving living conditions of the poorest through provision of health care, improved sanitation and access to potable water.
You can choose a specific project if you wish to donate according to your sensitivity see selected Education project section, or projects categorized by country
or simply donate directly to the EXO Foundation which will redistribute where it is most needed with the guarantee of 100% of your money going to the project.
For any inquiries please contact [email protected]
---