The Foundation's mission is to instigate a system of travel that incorporates long-term strategies to maximize the benefits for local communities, and the preservation of their cultural and natural heritage.
It aims to improve the livelihoods of the most disadvantaged populations, while minimizing the negative social, cultural and environmental impacts tourism may generate.
The role of the Foundation is twofold:
Accompany and guide EXO Travel and its clients on the responsible path

,  advising EXO Travel teams and its clients (travel agents and direct travelers) on the best practices in responsible travel to ensure their activities support the sustainable development of the region,
To directly

support

(fund) 

projects

which are contributing to the sustainable development of destinations.
Accompany and guide EXO Travel and its clients on the responsible path
At the EXO foundation we believe that charity is a great way to give back to the communities but that it also necessary to conduct tourism business in the most ethical and responsible way so that it effectively contributes to local economic development and heritage conservation.
As such the EXO Foundation acts as an advisor to the travel industry and has developed
– A responsible travel policy for EXO Travel Destination Management Company, the Foundation also advise on how to implement it.
– A booklet called EXO cares to be distributed to travelers introducing them with local cultural customs and environmentally friendly practices.  These 'tips for trips' allowing to increase our positive impacts while minimising the destructive ones.
–  A selection of operators and activities in line with responsible tourism principles. Check the Cape Town declaration on responsible tourism.
---
 Financial support
 The projects we support address various socio, cultural, environmental and economic issues covering areas including:
 

Education and vocational training

to empower the most disadvantaged and provide them with better life chances to break the cycle of poverty.
Fighting against human trafficking and child abuse.
Health care & sanitation, community development

to improve living conditions of the poorest.
Local economic development

supporting the creation of revenue generating activities  ; community based tourism (CBT), fair trade shops, agriculture and handicrafts.
Environmental conservation

to reduce ecological footprint and support biodiversity conservation.
Humanitarian aid

and disaster relief.
Culture and arts

to protect historical tangible and intangible heritage, revitalize local arts and crafts and support cultural revival and new creations.
Apart from the promotional and financial support offered we are also involved in the set up and running of projects with support from Apple Tree Group and EXO Travel wherever it deems necessary at grass root level to contribute and develop responsible tourism operations. Such as for example the Kamu Lodge in Northern Laos, Maung Shwe Lay library or A Lett Chuang clinic and various school projects in Myanmar.
Project selection
The famous following motto is underlying in all our actions and decisions.
'"Give a man a fish and you feed him for a day. Teach a man to fish and you feed him for a lifetime",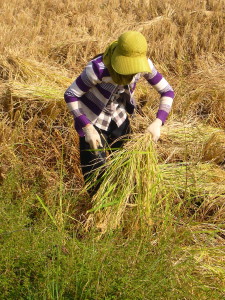 Our deep knowledge of the region where we have lived and worked for over 20 years and our experience in development issues have taught us that helping is not an easy task, that charity is sometimes counterproductive and financial donations are not always solving the problem in the long run.
At the EXO Foundation we are thus very cautious in selecting projects and organizations to support. We are scrupulous in the way donations are spent and carefully select beneficiaries according to their efficiency, transparency and the fact they are engaging beneficiaries to contribute by their own work and commitment.
We support in priority, local NGOs in line with our goals that can submit past annual financial and activity reports demonstrating their efficiency as well as regular updates on project advancement once a donation was made. Each country has its own issues so we tend to direct our funds to address those that are the most crucial in each country according to its political, economic and social context.
Funding Sources
 The foundation relies on donations. Nowadays our sources of funding mainly come from EXO Travel , travelers and in particular through corporate and social responsible activities of incentive groups.
EXO Travel donates US$1 per traveler to the EXO Foundation, as well as bearing most operational costs for office, staff and communication materials (website, brochures, etc.). As a result the only costs covered by the EXO Foundation are those related to money transfers, meaning that approximately 97% of total donations are accruing to projects.
Note that 100% of your donations will accrue to the projects as we are covering bank transfer costs with EXO Travel contributions.
Our transparency policy applies also to ourselves and as the EXO Foundation started its activities during the year 2011 and just completed their first year of activity, a financial report is available here.